In the picture above you see Wyndham. He was born in California, grew up in Michigan and moved to Berlin in 2011. Wyndham works as a digital strategic planner at a local agency. He looks good, is fun to have around and loves techno. You might think he is "just" your usual gay hipster kid, but Wyndham is different. Actually it's not him that is different. It's his life story. Wyndham is HIV+. He is the first one with this diagnosis we personally know. He was kind enough to sit down with us and answer all our questions.
Wyndham, how did you find out that you were HIV+?
I always got tested every 3 to 4 months since I was 18 years old. So in mid-October 2012 I went to the doctor for my regular testing. One week later I got my results. I always got the same result, so I was never scared. It was quite the routine for me. I went there on my lunch break from work. I sat down in the doctor's office as usual. He took a deep breath and said "I'm sorry, but the test was positive".
Do you remember how you felt in that moment?
Absolutely! I remember this day so clearly. Almost crystal clear. My emotions and my perception of everything was like a movie. I was totally shocked. I started shaking, though in that moment I didn't cry. The doctor stayed with me for about 30 minutes, because I was not ok. I started asking so many questions. I asked if I was gonna die, what I should tell my mom, I started hypothesizing about how I could have gotten it. I had to talk about it a lot in this moment to cope with the situation. After I went out they had to take my blood again to reconfirm the diagnosis. They took a lot, like 10 to 15 vials. Of course everybody in the office knew what just happened in the doctor's room.  But they were all very nice and comforting. And then I could go … back to work (laughs).
Did you really go back to work?
I did. But I already decided with the doctor I would not work anymore that day. It was a Friday. I started to grab my stuff in the office. I hadn't even eaten lunch yet, because I was at the doctor's the whole time. My boss came in and started discussing what she wanted me to accomplish in the afternoon. I just looked at her, probably shaking like a crazy person. I so badly wanted to tell her what had just happened. I didn't wanna lie and just say I have to leave early. I wanted her to understand what I was going through. So I told her that I just found out that I am HIV+ and that I am gonna take the afternoon off. I wasn't afraid to tell my boss, 'cause I have a close relationship with her and my colleagues. She just said "Ok, of course, do that". So basically from the first minute I was very open about it.
Do you know who infected you?
I think I know when and where I got infected. Normally I wouldn't have sex without condoms.  95% of the time I obviously used them. Nevertheless you are never completely safe using them. That's why I got tested often. I was naïve, and made a mistake like everyone can when sex is involved. That was my choice, my judgement call. No one else is to blame really, and I had to forgive myself.
So what were the next steps medic-wise?
First I had to wait for the confirmation test. I somewhat hoped it would come back negative. But then I remembered I had the text book symptoms a few weeks back: a serious flu and rashes. When the second test came back positive the doctor looked at my levels of the virus in my blood and also at the CD4 and CD6 cells. If HIV is found quick enough, you decide to get treatment and you are physically healthy otherwise your health perspective is just fine these days. Medication in 2014 is that good. Back in the 80s medication destroyed your body. Nowadays this is totally different. What I do now is take one pill of Eviplera a day, which is a combination of three different medications. I know I will have to take medication for the rest of my life. I am never allowed to forget it. I can't fuck it up, otherwise I will fuck up my health. The pill makes the virus go to the lowest level possible in your body and it also helps your immune system stay strong. So I will never have AIDS. No one these days who gets medication will have AIDS. But by the way, it is a choice to take medication, not a requirement. I started in February 2013, 4 months after I found out I was positive.
Is that even a topic of discussion? Would anyone ever not take the medication?
The doctor doesn't force you to take medication. In the HIV/AIDS medical community they now recommend taking it as quickly as possible. Not just because it helps your body to stay healthy. The more important reason to take medication is that it lowers the rate of transmission between 95% and 100%. Right now the virus is undetectable in my body. In Germany they call it "unter der Nachweisgrenze", which doesn't mean HIV isn't there anymore. When the virus is at that level, the possibility of transmitting it to others is extremely low.
When did you realize and accept that you are HIV+? How did your emotional state develop?
I absolutely didn't accept it then. I think accepting it took the longest. The thing about getting HIV now is that medically and health wise the complications are pretty manageable. But mentally and emotionally is where the huge effect of this disease happens, at least in my experience. HIV never goes away for your whole life. I wondered if somebody would ever wanna be close to me again. I knew I had a disease that I could potentially give to anyone just by loving them and having sex with them. I felt I would be dirty, diseased, unloveably sick for the rest of my life.
Did you seek help and see a therapist?
I still do see a therapist. It absolutely helps. It was one of the first things I asked from my doctor: a prescription for a therapist. My way of dealing with HIV was talking about it openly from the beginning. With my family and friends, which was the right decision because all the people around me reacted amazingly. My mom flew to see me in Berlin right after I told her, which was incredible. My ex-boyfriend was there for me whenever I needed him. I wouldn't have gotten through it without their support. I kinda floated through the first months.
I worked and tried to continue life as normal as possible. I told myself I was ok. I thought taking my first pill would make everything go away. Resolve the problem. That's very American of me, I know. In reality I hadn't yet accepted being positive in early 2013 when I did start the meds. And I hadn't accepted the damage it did to my emotions and to my mind. I unraveled over the next months. I had no self-esteem and hated myself. I couldn't be in groups anymore. I didn't wanna go to work anymore. I suddenly hated everything I was doing. HIV brought up all the insecurities that were there for a long time. In summer of 2013 I fell into quite a bad depression. It wasn't until I accepted that I was depressed and fucked up that I was able to actually accept and realize that I was HIV+ and that I was gonna have to do some work to make it better.
Did you decide to have a healthier lifestyle then?
When I started medication I also stopped taking drugs. That was my first switch into a healthier lifestyle. I also stopped drinking excessively and partying slowed down a lot. I always did sports, but I pushed myself to do even more. I tried to shift my habits in a more healthy direction, which helped stabilize my mood.
In that time were you in touch with other HIV+ people?
In 2012 I went on an online date when I was on vacation in New York. A guy from Grindr. One meeting for some food turned into going on a walk and then going to another place for food and then drinks. And at one point in a bar he told me that he was positive. This was the first time I ever met a guy who told me openly. My stomach dropped. I think I kind of faked it and played it cool even though I was really scared. But just being able to talk about it made me feel comfortable. This guy was so easy with it and so cool and not scared that I had to trust him. Later I found out that one of my closest friends in New York was also positive. He never had told me before.
So after my diagnosis I was kind of aware of what happens and the deal with medication and stuff. And I did reach out to the people that I knew who were positive to get insight and to get help from them. Especially about the medication.
From the beginning on you were really open about what had happened. Did you ever experience anyone not being able to cope with you being positive or even being offensive like not wanting to drink out of the same glass?
No. I never had anything like that. And if I have I haven't been aware of it. In general everyone that I told has been quite understanding. I've had a few women cry when I've told them. Gay men are usually more easy as they have more contact with it.
There have been some situations in online dating where guys said "No, sorry I can't meet you". But that's okay. My rule for myself is that I try to tell everyone as soon as possible. It's really important for me because I think talking about it and talking about the risks is the only way for people to understand it and become comfortable with it. I refuse to allow someone else make a decision without knowing the risks that they are taking. I was not allowed that choice.
When did you start dating again?
That didn't start again until almost a year after I got positive. Because I wasn't okay with myself before. And now a little homo-education: RuPaul says "If you can't love yourself, how the hell you gonna love somebody else?" It's true.
How did HIV change your sex life? Are you sexually active?
Absolutely you're gonna have sex when you're HIV+! And if you have sex with condoms there's nothing to worry about really – especially because I am undetectable and on medication. Medication and the use of condoms removes almost 100 percent of the risk. Even if I came in your face or mouth right now the chance would be pretty slim you get HIV (laughs). It doesn't change your sex life except that you have to be aware of talking about it and protecting others and yourself.
When you think back two years ago, is there anything you would tell your former self?
I don't want to have regrets. This goes for all the choices that I make. And one thing that being positive has taught me – life is too short for being mad at yourself. It's too short not to try and experience anything that you can right now. Who knows what will happen tomorrow? So I don't think I would tell my former self anything. Maybe I needed to do everything as I did. It was part of the journey every twenty-something person goes on, this journey of figuring out who you are. Some people take longer, some take shorter. I was – I think – lucky to get the opportunity at 23 to get a punch in the face and say: What the fuck are you doing? Figure your shit out right now! This huge emotional trauma of becoming positive gave me the chance to sort my life out and realize who I was and who I wanted to be.
When and why did you decide to talk about HIV publicly to make others aware? Also, do you feel it's still a topic in the heterosexual world?
Definitely not. The hetero people in my life were the ones who had the most lack of knowledge and the most questions about the disease. Although some gay people – I was very surprised – are completely uninformed about the topic.
One of the first thoughts that I had when I got positive were: Okay, I have to go to Africa, I have to start volunteering for the United Nations or something (laughs). I wanted to make the world better just to have some purpose. I am incredibly lucky living and working in Germany, where I get great healthcare and access to treatment. I basically don't have to worry. So I decided to try and start a conversation about HIV around World Aids Day which is December 1st. I wanted to make an impact and for the message to go further than my Facebook friends. So I got in touch with Jordan Bach. Sometimes you need someone else to tell your story for you. I did this hoping that some people would see it and that at least some of them would think about HIV.
We published a blog post called "8 things I've learned from being HIV+" and a video interview.
What were the reactions that you received after coming out on the internet? Were you scared of the feedback that was gonna come?
I had prepared myself to get any range of responses from negative to positive. That's how the internet works, right? But I believed in the message I was putting out there. Personally I am searching for the balance. How can I accomplish awareness, how can I get this topic into conversation but not make it who I am? I trusted Jordan that the story would be told in an eloquent and empowering way.
The response was overwhelmingly positive and extremely moving. I got messages from hundreds of people from all over the world telling me how I changed their lives. The things people wrote me were so personal and so thankful and from completely different kinds of people – straight, gay, young, old, female, male, positive, negative. That was really powerful.
I didn't do the interview with the intention of helping myself but in the end it did exactly that. It was the final step to getting better for me and since then I have been so aware of where I want to go, so focused, so motivated and so driven again. The response I got changed my life. And it made me realize that I did something good, something that I have to keep on doing. It was a turning point. Positive is, for me, so positive.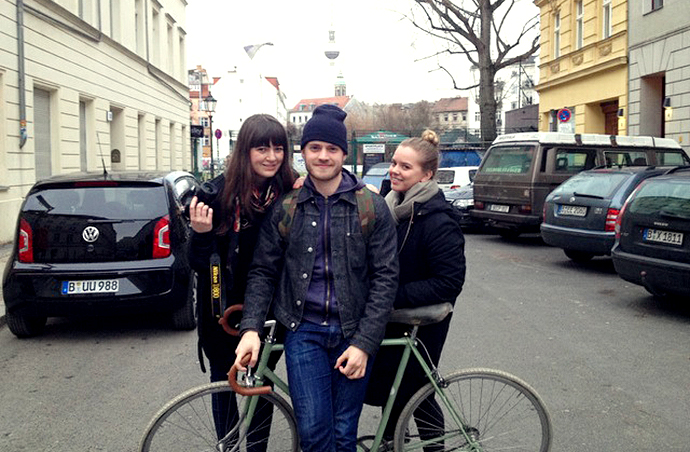 Wyndham had the guts to be brutally honest about the effects of HIV to his own mind and body. For us this afternoon in Berlin Mitte was an informative, eye-opening and very moving experience. It definitely changed the way we think about HIV. Initially we felt our questions were somewhat "stupid" but we learned that every question you don't ask about the virus is one too little.
We hope reading this interview gave you a better understanding of HIV in the 21st century. You can help raise awareness by sharing, liking, loving and caring. <3
By the way – Wyndham is also up for dating. Yay! Check out his im gegenteil video and portrait here.
Update December 2015: Wyndham is off the market now. Bummer!
We also met him for World Aids Day 2014 and the launch of the Vangardist HIV+ issue. And not to brag but he gave us sparkly roses for our 2nd birthday.