Today, we have a lot to celebrate. We, those of us in the bubble of privilege I happen to occupy, don't even think about HIV anymore. It's an afterthought, a non-issue. Undetectable viral loads mean no transmission of HIV (Undetectable = Untransmittable). Widespread access and use of PREP is drastically reducing the rate of new infections in many former HIV epicenters. The elimination of the disease will happen.
And if you're in the bubble, it's incredible. Sex is free flowing, fear of HIV is quivering away, and aside from getting regular check-ups, we can all move on with our lives. The queer community, the people who were most ravaged by this disease in the beginning, has been rising from our own ashes for over twenty years. A reality of near certain death is a far flung memory.
Early AIDS activist, Larry Kramer, credits our survival of shared trauma for our triumph:
There's no question that the gay movement would not be as far along as it is without AIDS. But how can there be any other issue in the face of death, possible extinction?
— LARRY KRAMER
The first gay pride in Sarajevo. The second season of Pose, featuring transgender women of color (played by transgender women of color). The 50th anniversary of the Stonewall Riots. Gay marriage in Austria, Taiwan, Ecuador and Northern Ireland. This year, the queer community thrived. Loud, proud, progress further than what even a couple years ago many thought was possible.
But as I collected my thoughts to write this piece, an annual exercise for the past seven years, I felt deeply conflicted. When I took a step back, and considered all the extraordinary issues plaguing our planet, I had to ask myself: is HIV even something worth talking about? And the "we" I mentioned before? Well, that has to exclude vulnerable and underrepresented populations globally where discrimination, socioeconomic factors, race, homophobia, transphobia, religion and a whole host of other reasons could mean that access to adequate HIV care is out of reach. People still die.
So who am I to speak up as a privileged white cis gay man in Western Europe? What about all the other global issues worth confronting?
Our world feels broken, fear drives decision making, desperation is de facto. How might we even begin to imagine something better when we look around us? My own story feels quite irrelevant in comparison… So, on World AIDS Day 2019, why do I speak up? Because hope. Because within my lifetime, there were millions of people who hoped for something great but instead wasted away from a plague with no cure. Because a generation of queers faced their own extinction and kept on fighting for their lives with humanity and compassion.
Hope, simply put, means falling back in love with the idea of the future. We, all of us, need a whole lot more of that these days.
To put hope in context it's important to understand ACT UP (AIDS Coalition to Unleash Power), one of the first organized groups in the fight against AIDS. ACT UP formed in 1987 to combat the inability of American systems to respond to the crisis.
Those were dark times: it was the aftermath of the mysterious "rare cancer" reported on in 1981 and the formation of the Gay Men's Health Crisis in 1982. Drugs didn't exist or weren't accessible, information was unavailable or incorrect, the government response was absent and at least 20,000 people had died in the USA alone. Their "SILENCE=DEATH" poster is a haunting reminder of the urgent motivation for their activism.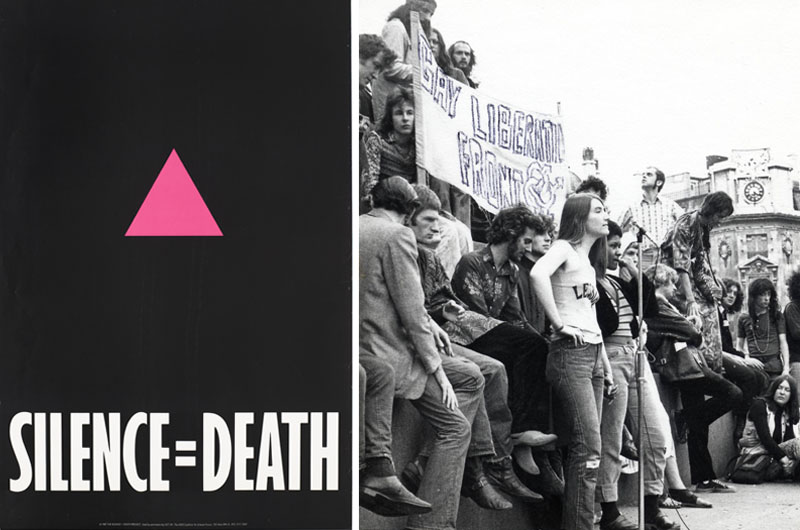 Across the United States and eventually the world, the men and women of ACT UP fought against institutionalized racism, homophobia, sexism, sex-negativity, fear and discrimination from the systems in power. In acts of civil disobedience and peaceful protest alongside self-educated intellectual grit, they slowly chipped away at the structures that failed to save lives.

By 1995, ACT UP was seen as partly responsible for the introduction of humane drug trial concepts, new public policy, clarity of information and ultimately the approval of Highly Active Antiretroviral Therapy (HAART) which marked the beginning of a reduction in AIDS deaths. By then, millions had died globally, including untold numbers of the queer community and many ACT UP members themselves.
These incredible humans shared an innate belief that a better future must be possible.
These incredible humans shared an innate belief that a better future must be possible. They had hope, in the face of governments and big pharma that on the surface held far greater power than them. They resolutely held that hope, despite funerals becoming a daily occurrence.
World AIDS Day, along with the story of ACT UP and the countless warriors who fought for action in the face of death, should remind us how to love. How to change. How to care. How to fight. How to stand up.
Can't we all, before it's too late, begin to understand each other? When will we all realize that we share similar motivations?
— PETER STALEY, INTERNATIONAL AIDS CONFERENCE 1990
Despite differences on the surface, at our core we all share the same humanity. In these radically uncertain times, every human issue is our collective responsibility. We're all human after all, aren't we? And I'd argue, hope for something better is in our primal nature.
Living in fear is a choice. So is hope. And I think, dear reader, you know in your heart which path leads us to a future we can all fall back in love with.
— Wyndham
Little did I know when I first wrote and spoke about my experience living with HIV in 2013 the journey of personal change I was about to embark on. Through the good, the bad (one word: ego) and the ugly it is a continual, beautiful and inevitable process. But I have to wonder, and it seems to be a question I ask myself increasingly often: why are we so resistant to radical self inquiry? What are we afraid of?
This World AIDS Day, a day which holds very personal meaning for me, I'm asking myself:
How good is a rebel who wants to change the world if they can't change themselves?
— EBRU KÖKSAL, 2019
The concept, "falling back in love with the idea of the future," is inspired by a talk at the House of Beautiful Business in 2019 by Konstantinos Karachalios. If you'd like to learn more about ACT UP I can highly recommend the 2012 documentary, How to Survive a Plague, and the 2017 film 120 Beats per Minute. Immense respect goes out to all those directly affected by, fighting for or living with HIV/AIDS. You are the true heroes of this story.
Wyndham Mead
is a purpose driven, human first consultant living in Berlin. Aside from his work as a freelance agent of radical change, he has been an active voice for queer wellbeing, digital health and HIV since 2013.
Headerfoto: Matthew Bennett via Unsplash. ("Gesellschaftsspiel"-Button hinzugefügt.) Danke dafür!
Silence=Death Poster: A pink triangle against a black backdrop with the words 'Silence=Death' representing an advertisement for the Silence=Death Project used by permission by ACT-UP, The AIDS Coalition To Unleash Power. Colour lithograph, 1987. Credit: Wellcome Collection. CC BY-NC
Activists in London: By LSE Library – Demonstration, with Gay Liberation Front Banner, c1972, No restrictions